You are here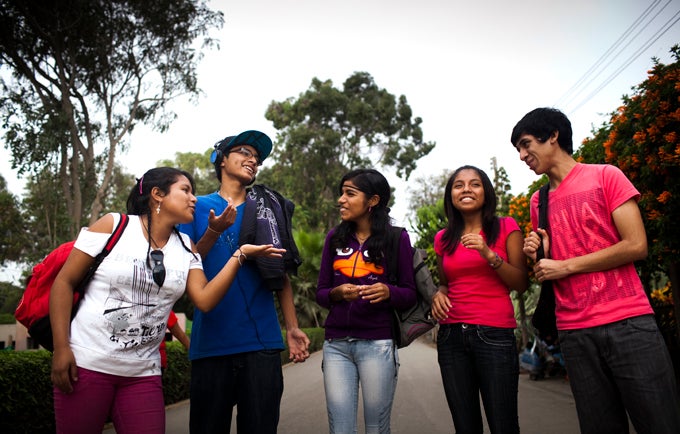 About Us
The United Nations Population Fund (UNFPA) began its activities in 1969 with the aim of placing the challenges and problems of the population at the center of development. Since 1972, it has worked in Peru to ensure that each pregnancy is planned, each delivery is safe, and each young woman reaches her full potential.
UNFPA achieves its mission by working to ensure that all people, especially women and youth, have access to high-quality sexual and reproductive health services that allow them to exercise their right to decide how many children to have and when to have them, their right to have safe pregnancies and have healthy children, and their right to enjoy and understand their sexuality and to live it free from fear, with health and without violence.
Our focus of action is in four main areas:
Sexual and reproductive health  (maternal / perinatal health, family planning and prevention and care of STIs, HIV and AIDS), including comprehensive sexuality education. 
Human rights and gender equality (gender-based violence, including sexual violence and a masculinities approach). 
Youth (participation and advocacy, development of opportunities, prevention and care of teenage pregnancy, protection of underage mothers and prevention of child marriage). 
Population (development of sociodemographic instruments for development planning, taking advantage of the demographic bonus, prevention and care of population ageing, and migration and urban/rural development). 

The potential and challenges of Peru
Peru is a multi-ethnic and multicultural country, with 24% of the population that defines itself as indigenous and 3%, Afro-descendant.
27% of its population is young, although population ageing is steadily advancing.
Inequities in the country are persistent. There are significant income, gender, generational, ethnic, cultural and territorial inequalities.
1 in 5 Peruvians is still poor. The Andean and Amazonian populations are more affected by poverty and the presence of the State in the territory is heterogeneous.
Many women die giving birth from preventable causes. This is due to the fact that access to sexual and reproductive health is hampered by territorial, legal, ethnic and cultural barriers. For example, in the Sierra there were 152.6 maternal deaths for every 1,000 live births between 2002 and 2011, while in Metropolitan Lima they amounted to 50.6 during the same period.
There is a low use of modern contraceptive methods. It is among the lowest in Latin America, stagnant at around 50% of women of childbearing age since 2000.
Teen pregnancy has increased. 1 in 7 adolescents is a mother or pregnant, 1 in 5 in the Andes and close to 1 in 3 in the Amazon. As of 2015, 4 mothers under 15 years of age were registered per day and 11 mothers of 15 years old.
Providing opportunities to young people is a condition to take advantage of the demographic bonus. In 2014, 16.9% of 15-to-29-year-olds were neither working nor studying.
High levels of gender-based violence persist. 7 out of 10 women have been victims of physical, sexual or psychological violence by their partners at least once.
The 2017 Census will be crucial for monitoring the Sustainable Development Goals (SDGs) and for mapping development gaps. The country will thus continue to strengthen its National Statistical System.
Peru is highly vulnerable to natural disasters. More than 10 million people have required humanitarian assistance in the last 15 years.
What We Do
We have started our IX Country Program 2017-2021, a cooperation agreement between the Peruvian State and UNFPA that lays the foundations for their technical assistance for development. It is the product of an exercise of strategic prioritization that starts from the most important challenges and needs that the country faces to ensure human rights, especially sexual and reproductive rights.
The main objective of the Country Program is to contribute to ensuring that all people have access to quality sexual and reproductive health that contributes to their integral development with equal opportunities for men and women. To do this, it seeks to achieve a substantive impact to achieve four strategic results:  
How we Work
We work as catalysts for action and advocacy through partnerships with governments, United Nations agencies, civil society organizations and the private sector to help ensure the reproductive health and rights of people. In Peru, we provide technical assistance, carry out advocacy and advocacy actions, and mobilize resources for that purpose.
Outstanding achievements that Peru has accomplished with the support of UNFPA
UNFPA assistance provides positive results. Hand in hand with our allies, we have made remarkable progress, such as the following:
The coverage of sexual and reproductive health services has been expanded.
The prevention and care of obstetric emergencies has improved.
The multisectoral response to attend teenage pregnancy has been streamlined.
Public policies that promote the rights of women, youth, adolescents and the elderly have incorporated international human rights standards
The multisectoral response to prevent and address gender-based violence has been strengthened.
Sociodemographic data on the situation of the population in vulnerable situations is available to improve the exercise of their rights.
The national statistical system has been strengthened.
Regional management capacities for emergency response have been strengthened, and sexual and reproductive health has been incorporated into emergency response plans.
Youth networks and organizations have a greater capacity to lead and participate in the political dialogue regarding their rights.